By Matthew Hartzler
Brands know full well the cost of defending baseless trademark infringement allegations. Even suits that fail to pass the smell test can still lead to eye-watering fees. Winning an easy case on summary judgment still means discovery, document vendors, possibly experts, and complex briefing to analyze eight or more factors in a likelihood of confusion test. Then there is all the burdensome time and effort an organization must go through to search for documents and deal with depositions.
One alternative — seeking early settlement — can make the entire endeavor feel like a shakedown, with the plaintiff using the costliness and inefficiencies of the judicial system as a threatening weapon. The other — seeking a motion to dismiss — is often avoided due to the ease of satisfying notice pleading. Even after the Supreme Court raised the pleading standard in Ashcroft v. Iqbal in 2009, allegations merely need to be "plausible."1 Fear of attempting the motion to dismiss is well-founded. McCarthy on Trademarks explains that in trademark infringement suits, "grants of a motion to dismiss are the exception, not the rule."2
This fall, a split Sixth Circuit panel in Bliss Collection v. Latham Companies discussed those exceptions in a case between two regularly warring children's clothing manufacturers.3 Though the suit centered on marks that all but the most visually challenged would consider very dissimilar, the majority ultimately reversed a decision dismissing a trademark infringement suit at that early stage. Thus, the decision does not suggest that meritless suits are easily thrown out of court, but it does demonstrate the possible practical and procedural benefits for defendants in a similar situation.
In its complaint, Bliss described an encroachment over time from the two companies having distinct logos to Latham changing its branding to appear similar to Bliss's marks.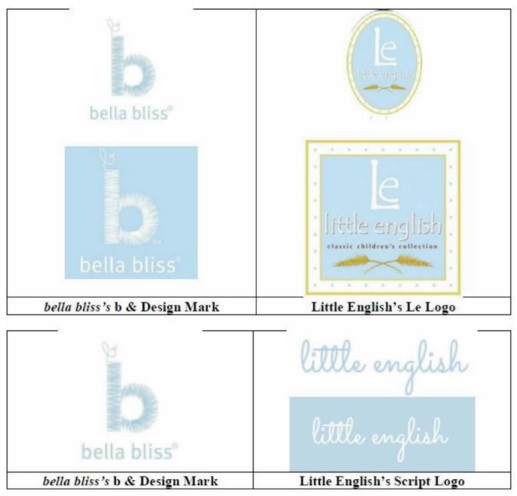 Bliss Collection, LLC v. Latham Companies, LLC, 82 F.4th 499, 508 (6th Cir. 2023)
The dissenting opinion breaks down the differences between the two marks (dissimilar letters, words, sound, overall appearance, fonts and more), concluding, "Only the 'Le logo' background color — light blue, in a shade resembling 'bliss Blue' — is an arguably similar element. But the background color, by itself, cannot do the work here."4
The majority felt differently, and it evaluated each of the likelihood of confusion factors — the Frisch factors in the Sixth Circuit — and determined that more of the individual factors (i.e., relatedness of the goods, marketing channels used and intent) weighed in Bliss's favor.5 This math meant that Bliss's allegations were plausible and stated a claim for federal trademark infringement.
Not all courts have followed this method of analyzing each and every factor on a motion to dismiss and deciding accordingly. In particular, courts in the Ninth Circuit trend more toward the tact of the dissent and see the factors as malleable in obvious cases. One Northern District of California court admitted that the standard is low, but then explained, "In some instances, however, the question of whether a likelihood of confusion exists can be determined at the pleading stage and based on a consideration of less than all of the factors, such as where the parties 'have obviously dissimilar marks' … "6 In such cases, STATESMAN was not likely to cause confusion with CAPTAIN AMERICA, and AMERICA SPEAKS was not similar enough to AMERICA'S TALKING to pass the pleading stage.7
Circuits have also found that a stark dissimilarity of goods and services can be grounds for dismissal.8 The Seventh Circuit has wrestled with cases involving films and determined that no one would confuse a rap group with a movie studio, or a software developer with a movie studio.9
But as demonstrated in Bliss v. Latham, not all cases that may appear obvious on their faces will be kicked out early, and the line between an infringement complaint stating a claim and being implausible is difficult to pin down.
Despite an early motion to dismiss having long odds of success, brands faced with an infringement allegation should consider whether early evaluation of the plaintiff's case would promote settlement — even if the motion is denied. This is particularly true when no preliminary injunction is requested, which can serve the same purpose. The court in Bliss v. Latham did give its initial impressions of the full set of likelihood of confusion factors, which gives each party the ability to have its vision of the case tested before launching into expensive discovery.
With this early analysis, either a baseless case might not look so baseless, which should change a brand's impression of the claim, or a case without genuine merit will indeed be dismissed.
---
---
To read Kattison Avenue | Issue 11, please click here.